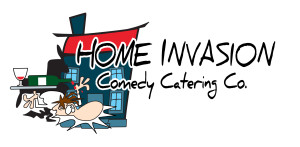 Characters A La Carte
You know what makes a great corporate reception or private party? The "interesting" people you meet. Ever been to an event that has a rude waiter or a bartender who gets really drunk and obnoxious? People would talk about that for weeks, right? Well… Home Invasion gets them for your party.
We have a sommelier who can give a talk during a wine or scotch tasting. By the end of the talk he's hammered, absolutely bombed. We have drunk waiters who drop things and sip drinks while serving, an overweight waitresses that eats half the hors d'oeuvres. We have a celebrity chef who prepares the meal for the guests while she explains the process then as she gets loaded ends up burning the dinner (the real dinner is safe). We have little people bartenders, bickering couples, "executives" from the US who completely lose it at dinner.
One of the easiest ways to take advantage of Home Invasion talent and take your event up a notch, is to choose one or more of the memorable individuals on our Character A La Carte menu. Perhaps an Italian Film Director is more to your taste. He's here in town casting his new "art" film. Why not have a 'friend' who has just recently separated from his wife attend, watch as he tries to hit on every thing that moves at your gathering! Hey, is the bartender stealing stuff from purses?
These are professionally trained improv actors, comedians and magicians who are experts at their craft and they can adapt to any situation at any event. They are hand chosen by Dave and Rob from the comedy community that they have lived and worked in for the past 30 years.
The Characters will show up at your party as invited guests (or employees). They will mingle throughout the event, engaging and entertaining your guests. We have separated our characters into three different categories to simplify (or inspire) your choices. If you have a character in mind that you don't see here we would be happy to create it with you!
We can do that. That's how we got the list in the first place. Imagine the impact of your next corporate gathering as employees, customers and clients  remember months later the night the overweight server ate half the canapes and the drunk waiter got fired after making a scene.
"Hired Help:"                                     
Obnoxious Bartender
Little Person Bartender
Useless Bartender
Overweight Server
Drunken Server
Clumsy Server
Drunken Sommelier
Bad Chef
Celebrity Chef Who Burns Food
Anal-Retentive Party Planner
Bickering Busboys
"Real Characters:"
Italian Film Director
Newfie Psychic
The Holy Man
Insecure Security Guard
New Jersey 'Businessman'
The 'Can't Speak English' Couple
"Musically Inclined:"
The Rap PackPunk Rock Singer
Bad Elvis
Cheesy Folk Singer
Country Cowboy
custom-written songs could be added to these characters.