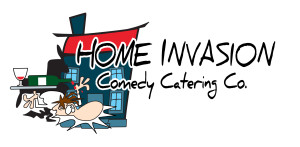 Now, you're in our wheelhouse! This is the very best way to take advantage of the talent and expertise that Home Invasion has to offer.
When you really want to kick-out-all-the-stops you can get the Home Invasion team to write, produce and perform one of our custom comedy productions. Maybe a game show for your husband's 50th birthday (featuring questions about him)!  Or maybe you'd like to 'Roast' one of your guests. Check out the list below or come up with your own idea and we'll bring it to life.
'Celebrity' Roast
Just like Dean Martin did it! First we meet with you (and maybe a pal or two) to get the 'goods' on your intended target. Then we'll write a script for each of the presenters. Finally we will use a mix of improv actors and actual guests (scripted and rehearsed) to drag your Guest of Honour over the comedy coals.
Game Shows
A great audience participation event! Home Invasion will provide a professional comedian as host and a script. You'll divide your guests into teams and let them compete with one another in our special "Dysfunctional Family Feud". Or have them test their knowledge about their host (or even each other) in our custom-tailored "Jeopardy"-style quiz show. We can even suggest and source prizes for you. Other possibilities include "The No Longer Newlywed Game" and "Name That Poorly Sung Tune".
This Is Your Life
A really fun way to celebrate a certain someone's special event; whether it's a birthday, career advancement or Bon Voyage. Writers from the Home Invasion team will interview (and others if needed) to discover the true life story of your honoree. The writers will then spice it up (like everything we do, the spice level can range from 'Mild' to 'Fucking Hot') and we'll use professional improv comedians and actual guests to tell the 'real' story of that life.
Slideshows
Give us your photos, your snaps, your holiday pics and we'll give you comedy. It's that simple.
Pros and Joe's Improv
Have you been to The Second City or watched "Whose Line Is It Anyway?" on TV?  Looks like a hell of a lot of fun, doesn't it? Well…it is, and you can have it. A professional improv teacher/director will show up at your house with a minimum of three Pros (you want more you can have more). We'll do 45-60 minutes of games and skits featuring the Pros with lots of different audience members. Your guests will have a riot (and the Pros will make them look good, too!).
Murder Mystery
You're probably thinking "Do people still have Murder Mysteries?".  Hell, yes they do and ours are crazier and funnier than ever. Just pick 2-5 characters from our A La Carte list that interest you and the Home Invasion team will use them (and a couple of prepped audience members) to spin a hilarious web of intrigue and stupidity. Features a great audience participation finale
As an ice-breaker, Games during the cocktail hour can be an integral part of an amazing evening. Whether it's at an event with several hundred people or a dinner party with 12, the ones supplied here are hand picked winners that never fail to deliver.
Learn to perform the most amazing video taped Magic Trick you can imagine. On the day of your event Dave will come to your venue and teach you this amazing effect. He will walk you through the performance, shoot the video taped piece that you need so you can absolutely befuddle your guests later that day. Your guests will be talking about it for weeks to come!
So, whether you want to add a little fun during cocktails or customize your entire evening, these guys will make it happen.