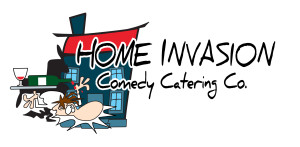 That's what your guests will say after experiencing a Home Invasion.
Tired of the same agenda at every dinner party, golf tournament or corporate event you attend? Always the same flow, never anything new. Buckle up. Things just changed. We introduce to you Home Invasion Comedy Catering Co. A one stop shop to help you create a truly unique experience for your next gathering.
A new concept in event entertainment. This one of a kind agency brings together the unique minds of two of Canada's best comedy practitioners, improv master Rob Nickerson and headline comic/magician David Merry. With over 30 years entertainment experience each, they have joined forces to fill a void in the special event industry. There has never been an agency for event specific, distinctive and sometimes eccentric entertainment for private and corporate happenings….until now.
The Team
Rob Nickerson
Dave Merry
Having appeared at over 7,000 events, these two comedic forces realized that there was no central clearing house for people to go to, who wanted an extraordinary experience for their live event.
They offer and will customize anything that can be dreamt up to have your guests talking about your gathering for months.
These two diabolical guys will help mold the perfectly demented setting for your next affair. They can cater to your invidual tastes and expectations and supply everything needed for you to throw the event people will be talking about for weeks!
Parties will never be the same!